On Tuesday, May 24th, I conducted a live interview with Cali DeVaney, owner of Nashville's popular salon and barbershop Parlour & Juke. At the Nashville Entrepreneur Center, we spent time discussing Cali's hands-off approach to managing a team and the importance of stepping back to assess where your business is at (and where you want it to go.)
"My management style is to assume that you're an adult who knows what you're doing," she explains. While DeVaney admits that her demeanor may not work for everyone, she thrives in a spontaneous, self-sufficient environment. Providing her staff with creative freedom and a fun, laid-back environment for her clients is at the core of her success. The wait list at Parlour & Juke makes it clear that Cali is doing something right.
Join me on June 28th, 2016 when I interview Mike Grimes of Grimey's New and Pre-loved Music and venues The Basement and The Basement East. Get your tickets at the Entrepreneur Center website now! 
Thank you to our media partners The Tennessean, Jump Goat Media and Born in the N.A.S.H.
All photography by Lauren Newman.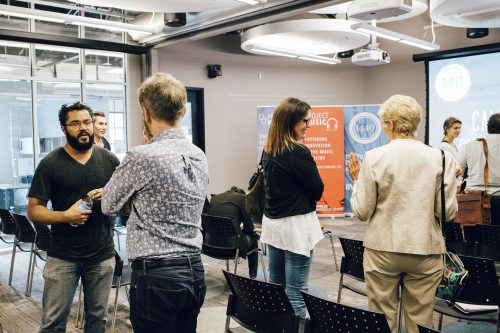 Photos by Laura Newman.
Sketches by Megan Kelley of studiomnivorous.com.